At Pacific Coast Veterinary Hospital in Prince Rupert, BC we are proud to provide digital radiography for both full body X-rays and dental X-rays.
"We offer digital X-rays for our patients. This technology allows us get the best image possible to help us diagnosis your pet. Some other advantages to digital X-rays are that they take less time and are easier to take than traditional film X-rays. This means less stress for you and your pet!"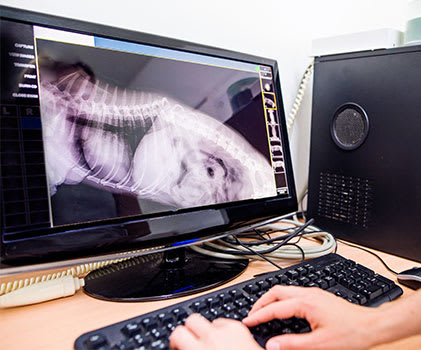 Better Diagnosis – Digitally
Digital Radiology allows us to look inside the body and create images of the organs and limbs to diagnose illness and injury.  
The digital X-rays we take of your pet provide valuable information about their bones, gastrointestinal tract (stomach, intestines, colon), respiratory tract (lungs), heart and genitourinary system (bladder, prostate). 
This state-of-the-art technology allows us to provide you with a quicker diagnosis for your pet, using less radiation than traditional X-rays.